Anti couperose and pigmentation serum
For sensitive skin with couperose and pigmentation signs.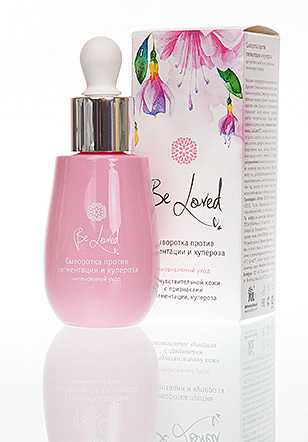 Clarifying and correcting serum helps to fight pigmentation and couperose problems. Plant extracts and essential oils improve skin tone and eliminate irritation and pigment spots, maintaining clear complexion. Its tender texture merges into your skin, covering it with fresh blossom aroma with light fruity hints. Hyaluronic acid literary fills cells with moisture, making it perfectly smooth, healthy and beautiful.
30 ml 1 fl.oz
Made in Russia
Having a soothing effect on skin, it strengthens capillary walls and fights couperose. The serum stimulates collagen fibers synthesis, improving mechanic functions of skin and increasing its elasticity. It also normalizes melanin synthesis and clears pigmentation areas, making skin fresh and lifted.
For:
Those who are looking for personal treatment program.
Those who appreciate stylish packaging.
Those who consider quality and safety important.
Those who need to see results.
Building material for cells CellCode®57 (21 amino acids, 19 vitamins, 8 mineral salts, 6 nucleoids, 3 carbohydrates.) – 57 elements for a normal cell functioning. It's an exclusive development of Russian scientists, which is able to start regenerative processes in skin, stimulate new cells creation and provide a long-term anti-aging program. It's easily absorbed by skin, while bringing active components to the deepest layers of epidermis.
Essential oils complex (minneola, sea berry, grape seed oils) soothes skin.
Strengthens capillary walls and helps to eliminate couperose signs.
Increases skin elasticity.
Stabilizes melanin synthesis, clears pigmentation areas.
WATER, CELLCODE®57, ISONONYL ISONONANOATE, ETHYLHEXYL STEARATE, SODIUM HYALURONATE, CAPRYLYL METHICONE, GLYCEROL, METHYLMETHACRYLATE CROSSPOLYMER (AND) SILICA, VITIS VINIFERA (GRAPE) SEED OIL, MINNEOLA OIL, HIPPOPHAE RHAMNOIDES OIL, POLYSORBATE 60, BORON NITRIDE, TOCOPHEROL, SÁCCHARUM OFFICINÁRUM EXTRACT, VACCINIUM MYRTILLUS LEAF EXTRACT, ANGELICA ACUTILOBA ROOT EXTRACT, ARCTOSTAPHYLOS UVA URSI LEAF EXTRACT, LAMINARIA DIGITATA EXTRACT, ASPARAGUS OFFICINALIS EXTRACT, CYCLOPENTASILOXANE, ASCORBYL GLUCOSIDE, ARBUTIN, BISABOLOL, SILVER CITRATE, FRAGRANCE.
After general cleansing, apply to skin, avoiding eye area and spread with gentle massaging motions.
The serum can be used in combination with day or night care creams or used as an individual treatment product.
Do not use if intolerant to any of the components
Рекомендуем также